Stripchat VR Cam Shows Reviewed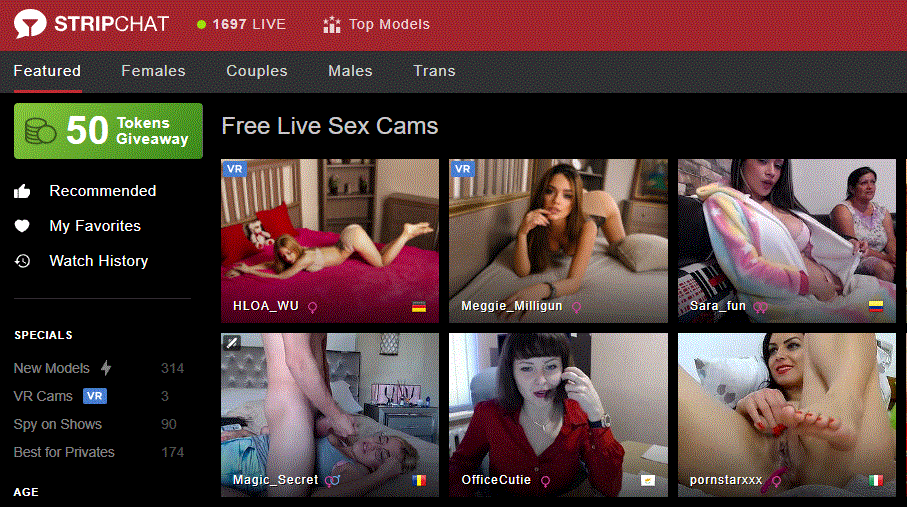 Users of Stripchat have probably been noticing some changes to their cam feeds. A lot of them are now offering you the chance to watch VR cam girls now! Stripchat VR cam shows are one of the first movers in the VR cam game.
That's a beautiful thing. They've taken two of the greatest things in the world and put them together. Cam shows and VR can now go hand in hand to offer you the very best experience of your private sex life.
You can look around whenever you want in the room and feel like you're right there with the model. It's the best way to have a show and will only get better.
The drawback here is that they're only offering it on mobile devices and VR headsets. You can't use it on your desktop. That's kind of a bummer. You need to have a specific app to run it and a way to turn your phone into a headset.
This isn't a problem at all for people who already have them. Chances are good that you don't, though. If you did, you'd probably already be using them for cam shows. Luckily, it doesn't take much to get yourself set up. You just need to know the steps that you need to take.
What You Need For Stripchat VR Cam Show
First, you could actually use  Google Cardboard. This is the least expensive option and it works just fine. You can turn your phone into a VR headset with no fuss at all. You'll still be able to see everything in HD. However check out the best headsets to watch VR porn here 
You can also find them for free at quite a few places. Order it and just wait for it to show up in your mailbox. It's really that simple.
It will come with explicit instructions on how to set it up. Once you've got that done, it's just a matter of getting your software situation taken care of.
The app that you're looking for is called Gizmo VR Player. That's all you need to install to get yourself on your way to VR cam shows. You'll even have two options of getting to your room.
You can either open up the app and type in the address or you can go directly their on your browser. You'll see a link right on the video to watch it in VR. Just tap it and you're off and running. Get your phone into your Cardboard and that's it. You can now watch your show in full VR.
Finding VR Cam Girls on Stripchat
You don't have to check out individual rooms to see if they support VR, either. Stripchat vr shows has been trying to add so many that they've given them their own category. You can see it right on the left side of the homepage. They'll all be laid out for you right there. You just need to pick the one that looks the best to you.
The VR will be going from the second you get into the public chat room. There's no private show necessary to use it. You can still tip and chat as much or as little as you want while it all happens for you.
What this does for you is brings you right in on the action. You don't have to wonder what it's like to be in the same room as the model anymore. That's because you feel like you're right there.
You just need to move your head around to check out everything that's going on. She can even use it to interact with you if you take her private. She can give you a close up view of anything that you want to see. It will be right in your face just like you're sitting in front of her with an erection.
The best part is that the video is still in high definition. You don't have to lose any quality to go VR. It only adds to the whole experience. With the two parts combined, it's really like you're with her.
You can enjoy everything first hand and you don't have to lift a finger. The whole feed is attached to your head so you can sit back and relax. You can control the show or you can let her take over. It's always up to you and what you feel like having at any given moment.
There are more and more Stripchat VR rooms coming all of the time. It's not something that's going to be disappearing. The models seem to be having a lot of fun with them.
They know that they can offer you something special. That's all they really want. They want to be the best cam show that you've ever had before. Going VR makes that very easy for them.
They can quickly become your go to cam girl. You'll never want to look back at the regular cams once you've experienced it. That's what the girls really want.
They're also being extremely experimental with the whole thing. Remember that they're all amateurs. They get on cam because they really enjoy it. They want to have fun with you.
They're just as excited about bring you into their rooms as you are. They want to give you a unique show each and every time.
hat means that you should bring your imagination with you. You can find something that you really like and never thought of before. It's all new so there's a lot to be discovered.
Have an open mind and go into it looking to have fun for the best experience.
You're going to want to check out the Stripchat VR cam shows right away. It doesn't take long to get everything you need. Get your Cardboard in the mail now to get yourself into one of the rooms as quickly as possible.
You can experiment and explore with the girl of your choosing. There's going to be a lot of fun to be had by both of you. You get the added benefit of knowing that she's experiencing something for the first time with you. It's the best way to spend your cam time and will be for a very long time.